We are hosting another Sake Tasting Event !
Welcome TENRANZAN SAKE Brewer
Kahori Igarashi

Date: Friday, October 29, 2004

Time: 4:00pm - 7:00pm

Location: 67 Wine & Spirits
179 Columbus Ave.
(East side of Columbus Ave.)
New York , NY 10023
(212) 724-6767

Featuring: Kahori Igarashi

Fee: FREE! Hope to see you there!
We are proud to welcome one of the world's only female sake brewers, Kahori
Igarashi, or "Kaho" for short. She comes to us from Hanno City, Siatama, Japan.
Kaho represents her family's sake brewery which was established in 1897 near
the Tenranzan mountain located in Japan's Hanno-city. An area blessed with
lush and beautiful natural reserves, fine water, two rivers, and scenic mountains.
Thus, the specialty sake she produces has been named "Tenranzan" which
appropriately means "The Emperor Mountain".
Fully immersed into the sophisticated culture of Japanese sakes, Kaho will be
hosting a sake tasting event at 67 Wines & Spirits in Manhatten. Please feel free
to come by and enjoy the sake selection from Tenranzan.
Tenranzan Sake recently took first place at the New Sake contest held in Saitama
out of the 134 brands represented.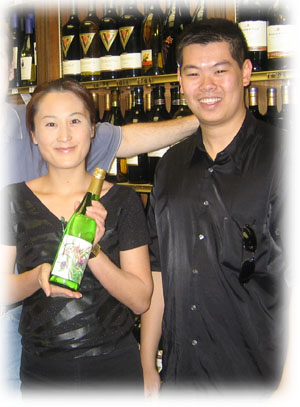 ___________________________________________________________________________
The Sake Window
We have introduced to the public the exciting concept of the "Sake Window" A Sake Window is an arrangement of decor exclusively dedicated to the world of Sake. Certain retailers have embodied this concept and granted us the opportunity to create such a display for their storefront. We would like to thank our sponsors for their contribution in developing this type of display. Also, much thanks to the artist Eves Suter for creating these brilliant displays for New York City to enjoy.
To see a the beauty of a "Sake Window" please visit these participating retailers. While you're there, take some time out to learn about Japan's finest Sakes and celebrate the holidays with a bottle of Sake.
New Erlich's Wine & Liquors
222 Amsterdam Ave. at 70th St.
New York, NY 10023
( 212) 877-6090
Mr.Mohawk

Chelsea Wine Cellar
200 West 21 St.
New York, NY 10011
(212) 675-1813
Sunny Song